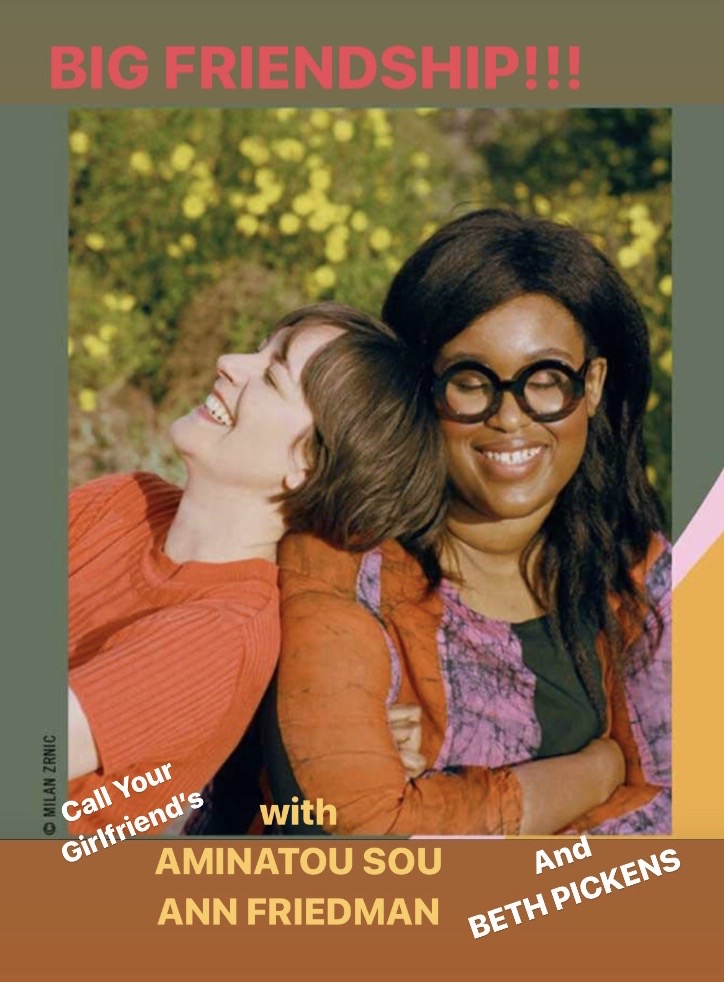 We are over the moon to welcome Call Your Girlfriend's Aminatou Sou and Ann Friedman to the studio to talk about their new book, BIG FRIENDSHIP. 
Resident Capricorn and highly favored contributor Beth Pickens joined NJG for this very special occasion. 
 Big Friendship is a book about friendship & feminism. It is a call to value your friendships in all of their complexity. Actively choose them. And, sometimes, fight for them.
We talked about Shine Theory, couples counseling, Metallica navigating interracial friendships, the queerness of chosen family and MORE. 
"Here, friendship gets the emotional and intellectual respect it deserves; and like any truly great love story, Ann's and Aminatou's is a page turner. I love this book. "
—Rebecca Traister, New York Times bestselling author of Good and Mad
Aminatou Sow is a writer, interviewer, and cultural commentator. She is a frequent public speaker whose talks and interviews lead to candid conversations about ambition, money, and power. Aminatou lives in Brooklyn.
Ann Friedman is a journalist, essayist, and media entrepreneur. She is a contributing editor to The Gentlewoman. Every Friday, she sends a popular email newsletter.
Together, Aminatou and Ann host the long-running podcast  Call Your Girlfriend.
Beth Pickens is the author of the book Your Art Will Save Your Life. She is an arts consultant, a CAPRICORN, and an esteemed friend to the show.
More praise for Big Friendship: 
"A wonderful and intimate portrayal. A story as universal as it is revolutionary."
— Hillary Rodham Clinton
"In this openhearted book, Aminatou Sow and Ann Friedman show us how a friendship can be as rewarding and enduring as a marriage, and they urge us to value it accordingly—as they clearly do. An inspiration."
—Ariel Levy, New York Times bestselling author of The Rules Do Not Apply